Does digital marketing have a scope in 2023, 2024, and in years beyond? Will the scope of digital marketing in India last for years to come, or is it just a trending thing for a short time? Let's find answers to these questions in this write-up.
Technology has become increasingly important in the commercial sector. On a worldwide scale, it has disrupted practically all business industries. It has made it almost difficult for a company to be rigid and stay within its comfort zone.

To thrive in these times of uncertainty and change, businesses must learn to respond to such disruption rather than sticking to established methods. For example, consider how technology has advanced digital marketing in India.

Today, most of the world's population is online and consumes a significant amount of content via social media. So, in this way, the scope of digital marketing in India is increasing drastically.

According to recent research, people now spend more than 8-10 hours of their day online. Social media usage climbed by 82%, gaming by 76%, and video viewing by 113%.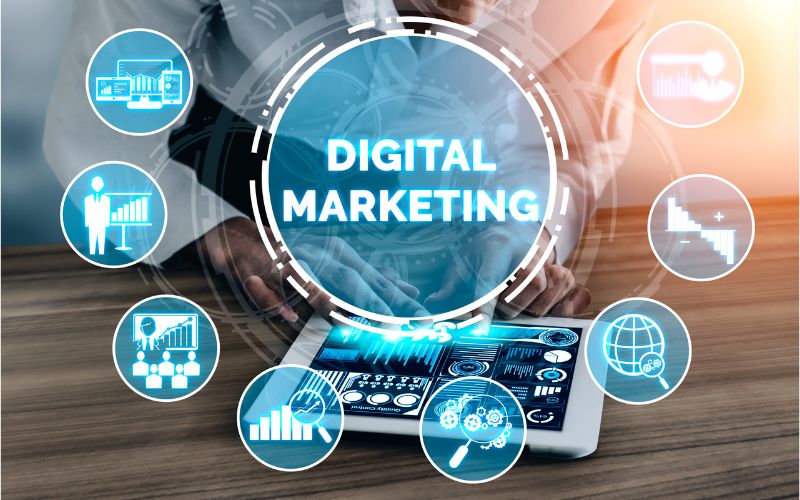 Zoom and Google Classroom have more than 6 million and 4 million users, respectively. Netflix, Facebook, and YouTube usage are at an all-time high. Facebook's user base increased from 140 million to 170 million.

Netflix has 222 million subscribers. YouTube usage has increased by more than 15.3%. Because of the absence of geographical restrictions online, thanks to social media platforms and digital marketing, even a start-up may operate globally.

Companies must transform themselves and use these possibilities to boost brand visibility, ROI, and consumer loyalty. Companies can reach their goals through organic and paid digital marketing strategies while saving a significant amount of money on advertising.

In India, the scope of digital marketing is gaining traction. However, until 2010, many Indian businesses did not use digital marketing, and its application in the industry was limited. Companies were unwilling to adapt their old business practices.

This article will examine why digital marketing is vital and the scope of digital marketing in India in 2022 and beyond.
What is Digital Marketing?
Digital marketing is the process of selling products and services through digital channels such as social media, websites, email, search engine marketing, and mobile apps. Any marketing that uses electronic devices is referred to as digital marketing.

Must Read: Why Learn Digital Marketing? Benefits, Career, Salary

Growth of Digital Marketing Over The Years
Internet connectivity is now widely available. It has increased the use of mobile phones, computers, and laptops, resulting in a significant increase in the strength and volume of digital channels.

The internet has transformed this medium into a full-fledged market, whether using social media, searching for information on Google, or making purchases. And as a result of the growth of this market, digital marketing has emerged as a leading source of bringing sales to companies.

Digital Marketing is growing at a CAGR of 25-30% in India. And if statistics are to be believed, India has reached 500 million internet users by the end of 2018. High-speed digitization, online portals, social media channels, and other factors have resulted in a meteoric rise in digital marketing.
– The Rise of Digital Marketing in India
India has always relied on traditional marketing methods such as door-to-door advertising, word-of-mouth publicity, radio announcements, and television commercials. That is, until the internet! Humans gave way to gadgets as marketing tools.

It became easier to reach a large portion of the audience with little effort. Digital marketing is spreading its wings wide and far as the number of laptop and mobile phone users continues to grow.

Become a Certified Google Ads Expert (Full Certification Course at just ₹2999) 75% OFF today
– The Current State of Digital Marketing in India in 2023
One of the first examples of online connectivity was the introduction of Michael Aldrich's online shopping system. Thomson Holidays UK followed in the following years, followed by IndiaMART B2B in 1996.

Finally, in 2007, the launch of Flipkart, an e-commerce website, altered the marketing landscape in India. As a result, the number of individuals using mobile phones, online shopping, at-home delivery, and internet marketing to promote brands has skyrocketed. 

The digital marketing industry has thrived over the years. It is bringing a big percentage of business online, thanks to its promised potential to form a global network and flourish even tiny enterprises internationally.
– How does it influence lives?
An Indian spends 4-5 hours, on average, scrolling through social media, emails, and browsers. The growing market for gadgets such as smartphones, laptops, tablets, and other similar devices has only accelerated usage and penetrated the market, allowing it to reach a wider audience.

The display of ideas through images, videos, texts, and other media has a solid foundation in people's minds, translating into their daily lives. The main goal of digital marketing is to improve a brand's influence by influencing the audience online through various content formats.

Top Digital Marketing Areas and Types
Large and small businesses have an equal opportunity to grow through digital marketing. It gives your company various ways to interact with current and potential customers. It is the lifeblood of modern businesses, providing high returns for very little investment.

Let's look at the various digital marketing types that are important for business growth.
– Content Marketing
Consumers are eager to learn how to solve their problems or find information. You will gain their trust if you provide them with high-quality and helpful content.

As a result, companies gain market authority and become the customers' first choice when they need to decide.

This type of digital marketing entails publishing helpful content that answers your audience's questions.

Content writing and marketing can be done through blogs, social media, emails, and other platforms. Mobile devices have their formats, such as apps and push notifications.

Content Marketing Full Course With Certificate
– SEO (Search Engine Optimization)
When your company begins to publish content, your audience must be able to find it.

SEO allows your content to appear in the top search results. As a result, someone actively looking for what you offer will find your website.

To use SEO, you must first understand the keywords that the audience you want to reach is looking for. Then you must create content based on these terms.

It is among the hottest digital marketing trends that offer a great career scope and opportunities. By learning it, you can build a bright career.

– SMM (Social Media Marketing)
SMM, or Social Media Marketing, promotes a brand, product, or piece of content through social media.

The ability to get closer to your audience and the potential for interaction are two of the best benefits of Social Media Marketing. In addition, when your content is shared via SSM, you may receive validation from your audience.

You can also use social media to communicate directly with your target audience. That is why it is crucial to keep them constantly updated and monitored.
– Paid Advertising (PPC)
There are a few options for paying for media on the internet. You can advertise on social media and on search engines like Google and Bing.

The paid ads for search engines appear before the organic results on the SERP. They always have an "Ad" favicon to draw the user's attention.

Different payment models may be used for this type of digital marketing. However, the following are the most common:

PPC, or pay-per-click, is the most common method of online advertising, and it can be used in almost any digital marketing strategy. As the name implies, you buy clicks on your ad by bidding on keywords in a keyword auction.
Another standard model is CPM or Cost-per-Mile impressions. The PPC model is typically used to pay only for what is used.
– Email marketing
Every day, many emails are sent, and some people still believe that email marketing is dead.

It is, in fact, one of the most efficient forms of digital marketing. However, you may achieve significant results if you use it strategically.

Keeping your subscribers up to date with valuable and relevant content is one way. Promoting products and services is also a good idea, as long as you respect your audience's privacy and don't send spam.

Email is a critical component of any successful inbound marketing strategy. You will be able to guide your customer through the marketing funnel if you automate the process.

Furthermore, emails provide a direct line of communication with your customers.

Email Marketing Full Course With Certificate (Get now for FREE)
– Instant Message Marketing
Instant messaging apps are becoming more popular. Almost all social media platforms have direct messaging, which is a fantastic marketing opportunity.

When your customers need help, they can use these channels to get a quick response, which is excellent for your brand and your relationship with your customers.

As a result, this type of digital marketing cannot be overlooked.

– Affiliate Marketing
Content creators are paid a commission for each product or service conversion in affiliate marketing. These content creators act as a sales team for your company.

They create their content. You pay them for each sale if their audience clicks to buy.

The best thing about affiliate marketing is that you won't need a large audience because you'll reach a community of content creators.

You should choose bloggers compatible with your services and products, just as you would in social media marketing.
– Influencer Marketing
Influencers are experts in specific fields with a large audience interested in what they're saying.

If your brand fits its voices, digital influencers can create custom content for you.

They can conduct public tests of your products and broadcast positive or negative results.

Even though there are some risks — the influencer may say or do something that harms your image — the loyalty of their followers may bring a large number of new clients to your brand.
– Video Marketing
According to Google, 2 billion people search for something on YouTube every month.

It's a huge opportunity to reach new customers, whether it's through entertainment, news, how-to videos, or educational content.

Video marketing strategies, blog posts, and emails drive results throughout the marketing funnel.

Eighty percent of people use search engines and videos to learn more about products and see how others have used them. And 55% of customers do it before making a purchase.

Suggested Reading: How to Find Jobs on LinkedIn in 2023? Top 10 Easiest Ways

Scope of Digital Marketing in India 2023 and Beyond
In 2023, the Digital Marketing career scope has significantly expanded. Despite the pandemic affecting us for two years, the growth has been nothing short of phenomenal.

There is a significant fluctuation in trend patterns across the industry with new developments and variants like Omicron and Delta, but digital marketing remains strong. Furthermore, it is expected to increase even more in 2023.

The large base of the audience reached through marketing practices is the first thing that comes to mind when we think of key indicators of marketing success. The use of the internet has increased day by day. India has the world's second-largest number of internet users.

By 2023, there will be nearly 666 million active internet users in India and more than 5.3 billion worldwide. A more percentage of people are moving online, making perfect sense to begin marketing online.

In terms of career, digital marketing has become one of the best options because of its prevalence in every industry. There are numerous niches, job roles, profiles, etc. to explore. For instance, people can become SEO Expert, Social Media Marketer, PPC Expert, YouTube Manager, Digital Marketing Manager, and more.

The packages are lucrative. Career growth is exponential. Moreover, remote jobs and freelance opportunities are easily available.
Digital Marketing Scope in Future (What to Expect?)
The future scope of digital marketing in India has been phenomenal, and it will continue to grow in the future. So put, digital marketing's future appears to be bright and secure.

As more opportunities arise, being creative, innovative, and up to date on the latest trends will become the guiding principle for every digital marketer.

The fast growth that we have seen in digital marketing in recent years, mainly since COVID-19, is here to stay. People are getting used to their new normal and are becoming more comfortable doing business online, whether shopping, ordering food or medicines, or even banking!

Suggested Reading: 30+ Most Asked Digital Marketing Interview Questions & Answers

As a result, digital marketing is essential in meeting these emerging consumer needs.

Furthermore, the future generation will be a part of an already digital world and will be accustomed to everything being online. Therefore, companies must begin digital marketing efforts today to deliver to these future consumers.

A key takeaway from all of this is that the future scope of digital marketing in India has a bright future. So if you are interested in digital marketing, now is the time to seize this opportunity.

How to Learn Digital Marketing From Scratch?
Since digital marketing is among the hottest and most demanded skills today, learning it helps you build a great future for yourself.

While there are numerous online and offline courses available, you must choose the best digital marketing course that offers practical training. It is because this skill is all about immense practice and working on live projects.

Take the example of cricket, the most famous sport in India. One can't become a cricketer without getting into the field and putting all the energies into practice. Similarly, digital marketing is also something that requires the practice of real projects and websites.

On that front, WsCube Tech's completely practical-based and 100% skill-oriented online digital marketing course in India offers you the opportunity to not only learn it with live training, but also provides exposure to real projects. You would like to check it out by booking two days of free demo classes.

PS– The course covers everything from scratch, which means you don't need to have any prior knowledge or experience in digital marketing.

Digital Marketing Jobs and Salaries in India 2023
The digital marketing scope and salary vary depending on their position.
– Digital Marketing Manager
Digital Marketing Managers have all the essential skills like SEO, Google Ads, Social Media Marketing, etc. This position necessitates a higher level of experience and extensive knowledge of digital marketing to mentor, manage, and lead others effectively.

This position requires extensive experience at various levels, including Digital Marketing Lead and Assistant Manager DM.

Salary for Digital Marketing Manager in India

A Digital Marketing Manager's average income in India is Rs. 8,09,777. Someone with 4–8 years of experience is required for this role. Other factors such as industry, qualification, Digital Marketing Certification, and job location, all play a role in determining salary. In this field, the Digital Marketing Job scope is very high.

A DM Manager's salary ranges from $4,000 to $80,000 per year. As previously stated, a person's salary is influenced by various factors.
– PPC Expert
One of the most in-demand jobs in digital marketing is PPC Expert and PPC Analyst. The company will quickly hire someone who can demonstrate the ability to earn profits equal to or greater than the investment through paid advertising.

Salary of PPC Expert in India

The fresher PPC Analyst / PPC Executive's salary in India is around Rs. 2,50,000. This position requires a candidate with the right skills. Freshers with a strong understanding of PPC or those who have completed a few months of internship can also expect to be paid similarly.

Salaries for PPC Analysts can rise to Rs 6,00,000 per year, as they gain experience and skills. In addition, many digital platforms are moving toward monetization, and if you can master Pay Per Click management, the sky is the limit.
– SEO Specialist
Regardless of what new digital marketing methods arise, SEO will always be the evergreen digital marketing tactic. SEO is the best way to bring in long-term, high-converting visitors.

SEO tools like SEMrush, Google Analytics, and Google Search Console should be familiar to you. It is one of the most advantageous specializations.

Individual salaries are primarily determined by experience and knowledge. For a beginner, the pay scale may be average, but as one develops a deeper understanding of the subject, the pay scale rises.

Salary of SEO Specialist in India

The salary of an SEO fresher in India ranges between Rs. 2,40,000 to 3,24,000 per year. It increases with experience and level of skills.

SEO Managers earn a whopping package, ranging from Rs. 3,60,000 to 5,40,000 per year.
– Social Media Executive
People nowadays primarily interact with one another through social media. As a result, brands begin building a solid social media presence even before creating a website or an app.

Social media is frequently the driving force behind a business, followed by a website to establish an online presence. To generate traffic to their sites and retain engagement, businesses hire social media marketers that are well-versed in all aspects of social media.

You can also use your niche knowledge to your advantage if you have expertise in a specific platform. Social media marketing also necessitates familiarity with a variety of SMM tools, such as Hootsuite, Buffer, and Buzzsumo, to name a few.

Social Media Executive/Specialist Salary in India

In India, a Social Media Executive with less than three years of experience earns between INR 2,50,000 and 3,50,000 per year.

In Digital Marketing Agencies, Social Media Professionals are in high demand. Again, the salary varies on the basis of experience, skills, and job location.

Learn In-demand Digital Marketing Skills With India's Best Online Courses (Self-Paced)
FAQs Related to Scope of Digital Marketing in India in 2023
1. What is digital marketing and how does it work?
"Digital marketing" refers to performing a specific task using the internet and various technologies, while "marketing" refers to promoting a company's products or services.

In general, digital marketing is a new way for businesses to reach out to customers. Email marketing, blogging, online advertising, social media marketing, video marketing, and so on are all examples of this.
2. What are the different areas of digital marketing?
Areas of Digital Marketing:
Social Media Marketing
Search Engine Optimization
Email Marketing
Content Marketing
YouTube Marketing
Mobile App Marketing
Google Ads
Pay Per Click Advertising
3. How much do digital marketers earn in India?
In India, the average salary for a manager in the digital marketing industry is around Rs 8 lakhs per year. In Delhi, Mumbai, Kolkata, Chennai, Hyderabad, and Bangalore, a well-experienced digital marketing manager can earn around Rs 15 lakhs per year.
4. What are the digital marketing career opportunities in India?
Digital marketing offers the following career opportunities in India: