How do I make my mobile app popular? What is the best mobile app marketing plan in 2023? What strategy to follow to increase app downloads and make it featured among the most popular Android apps in India?

These are some common questions among the mobile app owners, marketers, and entrepreneurs looking to increase the app downloads and installations, and make an impact.

Also, to answer this question, here is the complete guide to clear all the doubts as well as the steps for creating a mobile application. The process of mobile application development includes several phases, which indicates that it is not a one-step procedure that changes into a successful mobile application.

Mostly the companies prefer the concept of over time for refining their mobile apps to meet the needs of their users better and accomplish success.

Some of the most popular Android apps, such as Instagram, WhatsApp, and gaming applications such as Angry Birds and Clash of Clans, each one of them has something in common when it comes to increasing mobile app downloads. And each has a unique application concept, which is reflected in the useful feature. This particular basic functionality allowed the app to change user behavior and fall into their daily routine.
Upskill Yourself With Live Training (Book Free Class)
Here are some factors that make mobile apps successful:

Utility
Commitment
Unique app concept
Ease of use
Appearance
Performance
Mobile App Development and Marketing: Full Plan & Strategy
The launch of an application is something, which can be done once, but the journey of mobile applications has a far road ahead.

Also, it is vital to continue to evaluate, promote, and enhance your implementation strategy to achieve real success. Below is the complete guide on how to increase app downloads organically while ensuring robust application development.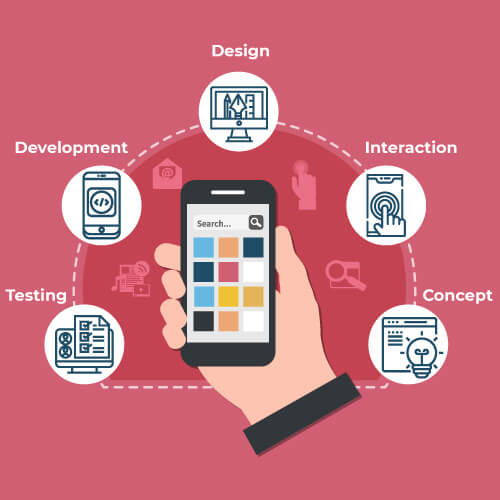 1. Choose Right Mobile App Development Company
You must hire the best skills within your desired budget. Also, it is essential to ensure that the developed application is meeting and realizing your vision as well as it is created in the specified time.

Always look for the best company that acquires a robust development team and a great design talent. So, while hiring a mobile app developer, you must examine their case study as well as the applications they have created.

When you proceed to increase mobile app downloads on Play Store or App Store, having a great app is vital.
2. Brainstorm a Fresh Mobile App Concept
There are only two techniques for making a successful application. It begins with innovative mobile app ideas and offers an alternative for a specific situation. Second, the undertaken project must be well prepared as well as well-executed.

Food ordering apps, such as Zomato and Deliveroo, are some examples of flourishing apps with a unique but straightforward principle. Now, these are a few of the most popular mobile apps.

As mobile technology is an integral part of our lives, then it also plays a central role in society. Such places, where consumers always surf and use it regularly compared to websites.

Also, according to Google and Yahoo, consumers spend about 90% of their time on mobile apps. So, to accomplish consumer needs, several companies are creating mobile application strategies.

Suggested Reading: 15+ Profitable & Innovative Mobile App Ideas for Startups
3. Create Buyer Personas Before Making Mobile App Marketing Strategy
Today, there are over 1.85 million apps on Apple's App Store and more than 2.56 million apps on Google Play Store.

Also, a unique idea for starting your mobile application, in a niche, which is already intact, and the management for achieving a product that adds value to the existing crowded space of mobile apps is a huge challenge.

Also, to create a successful mobile app, it is essential to set some specific keywords, such as sex, age, the location, that meet the targeted audience. So, when you ask what makes mobile apps successful, creating buyer personas is crucial before making an app marketing plan.

Interview Questions for You to Prepare for Jobs
4. Decide Whether to Develop Native, Web App or Hybrid App
The selection of the right approach for application development is very crucial. Initially, the approach of the application development must comply with the constraints of both time and budget of a client.

Native Mobile App: It is used to provide the best user experience, but also needs a lot of time as well as skills for development. Such apps are typically on a specific platform and also need expert knowledge.

These are expensive and even take time to develop and offer the highest user experience among all the approaches.

Web App: It is fast as well as economical to develop and can run on several platforms. Also, it includes the use of CSS, HTML5, and JavaScript code. Such applications are less robust than native apps.

Hybrid App: It is the latest approach for developing an application, and this specific approach is combined native containers with the preconceived regarding Web coding fly to get the best of both.

In this, the developer enhances the web code, along with the native language for creating unique features as well as access to the native APIs, which are not available yet via JavaScript.

Related Reading: Progressive Web App vs Hybrid App Development: Pros and Cons

5. Develop a Purposeful & Problem-Solving Application
The developed application must have a purpose and no need to waste resources over false imitations that fail to achieve your goal.

It must have a clear vision and also identify the pain, purpose, requests, or obstacles of your clients; by doing some research. It will help in getting an overview of issues that are to be solved. Therefore, when you wonder how do I make my mobile app popular, solving a customer problem must be a focus point.
6. Add Useful App Functionalities and Features
The users require an application, which focuses on core functionality as well as features that offer its users a seamless experience. Also, the app's major functionality depends on the purpose that it offers to its clients and independent competitors.

So, if users require more features, then the app can include its latest version with newly added features. It would help users to believe in the app and use it over and over again. In this guide, your answer to how do I make my mobile apps stand out is that having useful features is key.
7. Strong App Store Optimization (ASO)
ASO or app store optimization is a method, which is widely used for the Broadway audience, and it directly reaches them.

It is a digital task, which can be accomplished by adding keywords, titles, and descriptions for being highlighted in the competition. After the implementation of this task, it can take several years to be listed in the higher classes, only if optimization is followed carefully.

Also, the applications that are based on the speed of installation of the App Store indicate more downloads or installs have occurred within a short period, and more implementation is placed. It is also tough to accomplish without the help of public relations or any advertising agencies, but it is still considered impossible.

Get FREE App Store Optimization Course
8. Have Offline Browing Functionalities
As the internet facility is available in most of the places, so most applications offer functionality via an internet connection only.

Moreover, if the user is out of an internet connection; then he/she will have no access to the application. Thus, providing an offline feature can be an added benefit for you.
9. Simplicity and Ease of Use (UI/UX)
The user may lose interest in your application if it has too many steps before leading to the main objective of the app. Also, they can end up uninstalling them. Entire mobile apps should be simple to use, along with easy steps. Also, the main objective should be achieved within a few taps.

The interface of the mobile application should be easy to use, attractive, and transparent for its smooth use.

Suggested Reading: List of Top 7 Front End Development Languages
10. Freemium Business Model Works
It is one of the best ways to create a human chain quickly. So, the majority of the premium app is free with some essential functions of the app.

Also, everybody prefers to download a free app that ultimately increases the number of users. It provides them a chance to test the application in their way and give honest feedback.

Though by providing a free app to the customers doesn't offer success, but it can certainly increase the users and take you in the market to make the way of competition. So, it will increase the success chances of the application.

Free Courses for You
11. Provide Value to Audience or App Users
It is essential to know how the application was created and offers real value to clients. Also, the users always constantly wish to run an application with good speed as well as convenience.

When you think of how to get customers to download your app, offering some real value plays a significant role.

Thus, it must provide customers the real value at each stage to drive as well as motivate loyalty. This specific value comes in the entertainment, utility, convenience, or a spectrum of other areas.

If an application is used in many situations and also attracts users with impeccable execution, then it may be positioned in the list. It is also vital to have an excellent appearance for the application and also execute your idea to ensure that it has successfully delivered the value that you desire.

Read Next: Magento vs WooCommerce Comparison: All Differences