Every Year the economy of on-demand mobile apps is attracting more than 22.4 million consumers and their spending has grossed about $57.6 billion.

Similarly, if we consider the marketplace, then online markets are spending the most, along with 16.3 million consumers, who averagely spend $36 billion each year.

What does this mean for the future of on demand mobile apps?

Currently, they have become prevalent, and are getting better and growing in the online marketplace like a blast! It refers to that as a business entity, and you should surely have an idea about the on-demand apps.
Upskill Yourself With Live Training (Book Free Class)
What is On-Demand Mobile App Debvelopment?
On-demand service mobile apps are considered as a linking layer among consumers and several businesses. It also covers many sectors, and consumers prefer them to get their expertise on multiple products or services in which they want to purchase.

Currently, such services can range from laundry, grocery, food delivery, personal health services, and car rentals.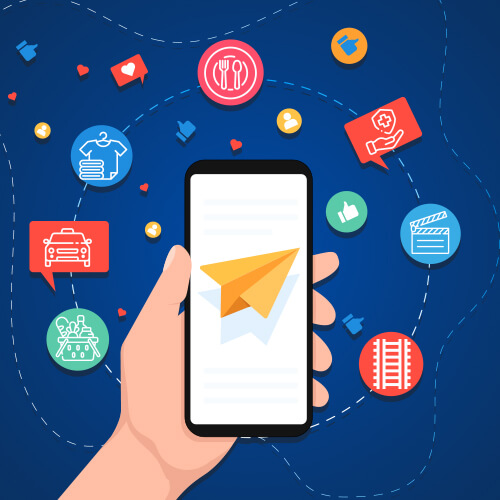 Precisely, the customers can get their hands on such services with just a few taps on their smartphones. Currently, most of the online businesses are leveraging the service of such apps to enhance and make a reputation.

Suggested Reading: Magento vs WooCommerce Comparison: All Differences
Key Features of On-Demand Apps
While opting for the on-demand app development according to your business, it is crucial to know about the key features to integrate.

Also, an optimum mobile app development company will consider it, and also offer you the required features in your app in a perfect manner. Still, here we have described some basic features that are considered a must to include in your apps, such as: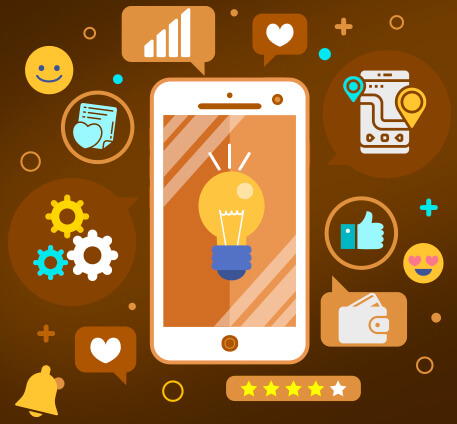 1. Push Notifications
It is essential to let know the customers about any limited period offers or other services that are being offered. There are options such as you can select message notifications to alert the consumers; it functions as a useful marketing tool as well.

Also, you can use them for sending some real-time status concerning any requests as well as let them know regarding the changed status of the request.

2. GPS Tracking
For tracking the order, GPS integration is vital as it is a key feature in on-demand apps. It has a key role while building an On-Demand application, as it can conveniently let the customers acknowledge the advancement of the placed orders.
3. Activity List
It displays the customers their orders, search results, and some other relevant data for complete reference. In this manner, the application takes the load off the customers to again regather everything.

Learn Android App Development from Scratch: Full Course
4. Wishlist
There can be situations when the users are not ready to make a purchase, or the items they are searching for are out of stock.

So, in that case, the on-demand apps must have this feature as it is quite essential. It would motivate the customers to make the purchase, whenever they're ready or when the product is back in stock.
5. Multiple Payment Options
Currently, the concept of m-Commerce or mobile payment facility plays an essential role.

Also, the chances of getting your on-demand app are more acceptable, and its use also depends on the diverse payment options that you offer.
Interview Questions for You to Prepare for Jobs
6. Ratings and Reviews
The reviews and client testimonials are the main reason for the success of on-demand applications. As they assist you in enhancing the user experience as well as the quality of an app.
7. Booking Cancellation
There can be several situations when the customer will have to cancel the order due to some reason. So, it is the facility, which allows them to either cancel or reschedule the booking as per their preferences.

8. Place Multiple Orders
It is an excellent option to offer the customers as this facility is vastly recommendable as a customer can place various orders at once at the store. So, entire apps need to gather the basic information of the customer, which can assist with a simplified checkout process for each order placed.

Related Reading: List of Top 7 Front End Development Languages
Benefits of On-Demand App Development
Currently, more than 80% of businesses use on-demand app development for their business, and so while it comes to building a customized mobile app solution, then all is justifiable.
Moreover, if you prefer to enjoy the useful and highly-extensible mobile app for your business, then you need to have the right features included in it as well as check for vulnerable areas in the app to take care of it.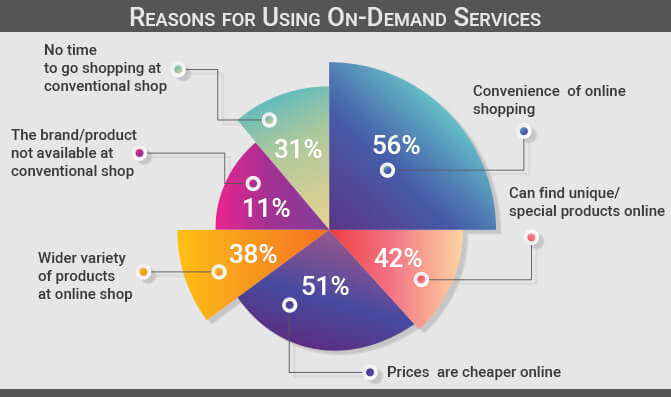 Also, such apps are helpful in increasing the ROI of your business, which adds value to it.

1. Leverage the potential of the mobile period
According to Statista, mobile phone users are said to increase by 4.68 billion from the year 2015 to 2020. It means that a business, who doesn't plan to invest in mobile app development and also build a business strategy with mobile marketing can be considered as foolish to do so.

2. Employee satisfaction and efficiency
You can achieve the desired ROI for your business by hiring the appropriate mobile app development company for this specific job. It is usually based on the ease of project management, such as user-friendliness, as well as usability of the custom-built features.

3. Scalability and Security
It is quite not possible to be sure regarding mobile apps, whether they are secure or not. All businesses prefer to keep their data safe and sound while maintaining confidentiality. So, when you prefer to go for custom mobile solutions, then you can be sure that your app data would be safe.

Also, in comparison with any other mobile app build for popular mobile app platforms, such as Android, iOS, or Windows, such apps provide better scalability.

4. Varied Business Opportunities and Growth
You have tons of information in your database regarding the users right from their phone numbers, addresses, email addresses, interests, preferences, and whatever you want to know.

It seems as if getting into the mind of your audience. Such huge data can do a variety of things for you, such as:

The use of data for analysis and enhancing your business practices.
Alert them about any upcoming sales or offers.
Select direct email marketing to market your products.
Sustain your consumers, along with a personalized touch.
Believe in direct connection with the customers and also offer personalized support.
Create a business-customer relationship.
Enhance your conversion rates to unattainable levels.
5. Cost-Effective
Never opt for cheap or free things as you will end up investing more in the long-term period. In contrast, if you focus on offering value to your consumers and also stay flexible, then you get results with increased ROI, which will justify your investment.

Rather than opting for ready-to-use solutions for your business, you must hire reasonable on-demand app development services.
Free Courses for You
On-Demand Service App Development Cost
Coming to the final question: How much does it cost to develop an on-demand mobile app?

Well, the total cost depends on a number of different factors, such as a business idea, app complexity, features and functionalities required, experience of the developers working on the app, and more.

On average, the on-demand service app development cost will be somewhere between $30,000 to $50,000.

Modern Android App Development using Kotlin: Full Practical Online Course